Financial Information Forum
FIF's publications
Of interest
Background
The global financial crisis (GFC) posed different challenges for central banks' functions and objectives to maintain price stability and preserve the health of the financial system. 
Among these challenges, it was evident the need for increased available and detailed information on financial systems to understand and analyze in an opportune and proper way its interactions with the macroeconomic stability and the mechanism of monetary policy transmission. Worldwide, the GFC unveiled gaps in financial information that impeded detecting timely risks on economic sectors and financial systems' participants, thus stressing the importance of this strategic asset for central banks in their financial stability analysis.
This scenario demands central banks to improve the methodological, conceptual and analytical framework for collecting, producing and using economic and financial statistics coherently with new needs posed by the GFC, in order to ensure that information is timely, reliable, and transparent so far as in enabling a proper identification of risks in and among real and financial sectors. 
Dimensions to overcome this challenge are diverse and may involve significant costs and activities for central banks, in response several international initiatives and task forces have been created to identify and solve core issues to improve financial information on a global scale.
In October 2014, the Center for Latin American Monetary Studies (CEMLA), with approval from its Board of Governs, established the Forum of Financial Information of Latin American and Caribbean Central Banks (hereinafter the Financial Information Forum-FIF) as a regional response for central banks' needs in identifying, monitoring and discussing common issues related to the improvement of financial information models in line with international efforts made in this field.
Objective
The Financial Information Forum aims at strengthening the financial information models of Latin American and the Caribbean central banks, and thus contribute to: 1) improved the analytical capacity for monetary policy and suitable macroprudential regulation and supervision; 2) harmonization of national financial statistics in light of the major financial integration and interconnectedness across the Region; and primarily 3) foster technical collaboration among the Forum members for the debate of relevant issues, international standards and recommendations, seeking its adoption into the Region's financial information models and systems on a thoughtful way. This will be achieved by: 
Identifying key features of Latin American and Caribbean central banks' financial information models, comprising main regulatory, institutional and operational needs and differences influencing the use and management of the data.

Promoting the overall enhancements in the use, practices, management and governance of the financial statistics within the Region, aiming at addressing identified gaps and needs according in each jurisdiction, in line with international efforts made in this field.

Capacity building of strategic areas within the central banks for the management and use financial information, via technical assistance and training.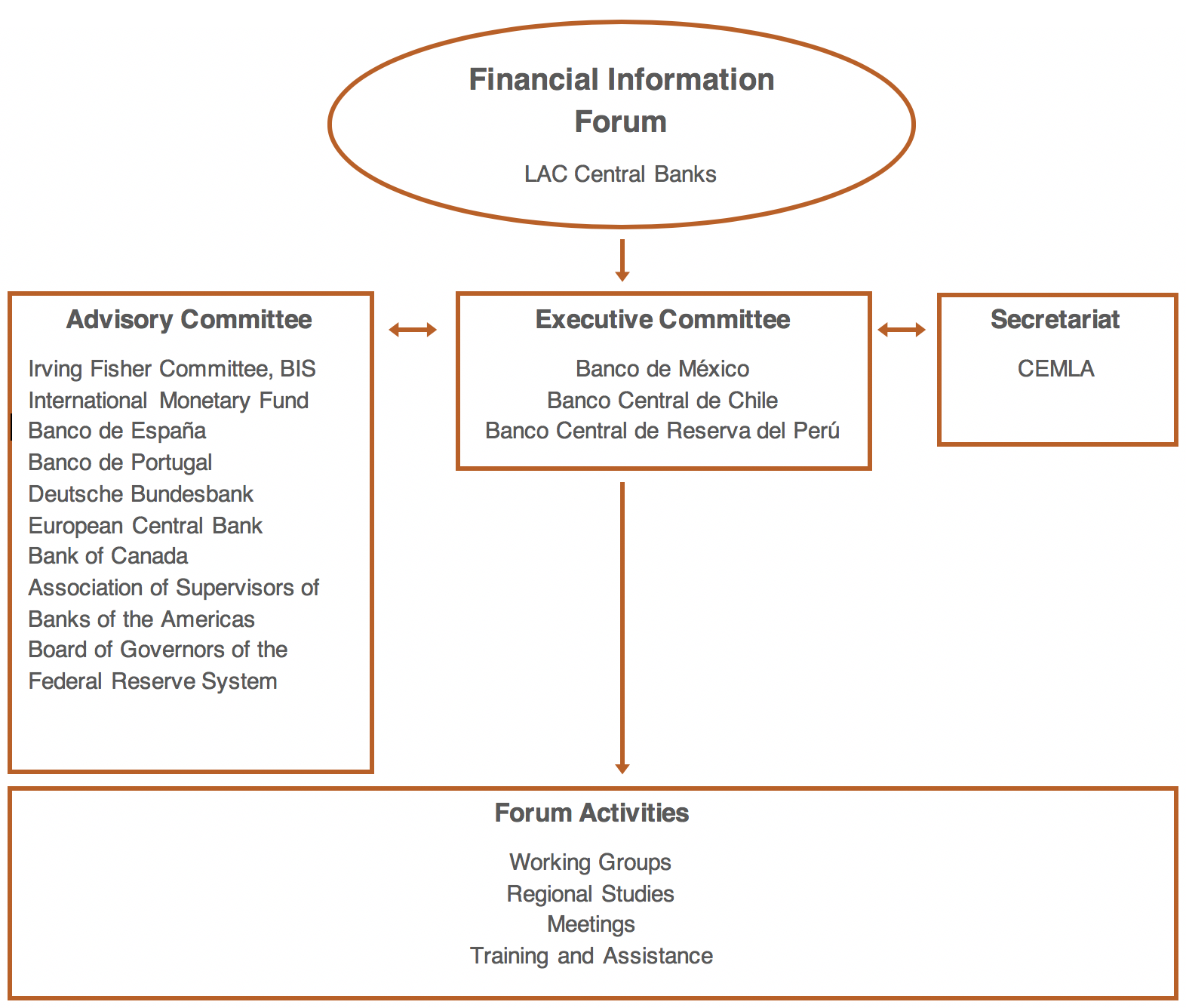 The Financial Information Forum comprises representatives from Latin American and the Caribbean central banks and other CEMLA collaborating members, including extra-regional central banks and major international financial organizations, responsible for the management and use of the financial information systems at their respective institutions. The governance of the Forum consists of a permanent Secretariat, the Plenary (or the Forum itself) and an Executive Committee. 

Plenary
The Plenary encompasses institutional members designated by each Latin American and Caribbean central bank and other CEMLA collaborating members. Their main duties include:
Defining the strategic orientation and the agenda based on the review of needs, resources and priorities of the membership;

Being active participants of the different Forum's activities, either by taking part or coordinating specific tasks, or proposing the inclusion of new issues or activities to be addresses by the Forum, or providing specific technical assistance to other members, among others activities; and

Attending the annual plenary meetings and other related remote and in-person meetings carried out as part of the Forum's activities and promoting the participation of their staff in said activities (e.g. training, seminars or conferences).
Executive Committee
The Executive Committee is a coordinating body made of 3–4 members, one of them acting as Chairperson. Committee members will be elected by the Plenary for a term of two years with the possibility of being reelected and having overlapping terms to ensure continuity of the Forum's activities. Geographical representativeness is desirable in the composition of the Committee and each member must have the necessary institutional support to carry out the following tasks:
Being responsible for implementing and managing the agenda and related activities of the Forum;

Promoting effective cooperation and regular communication among the members in order to ensure the activities and the agenda of the Forum are properly developed, and to keep informed the members about important FIF matters;

Maintaining permanent communication with the Secretariat and the Advisory Committee as supplementary support and guidance for any of the Forum's activities that may be benefited from their expertise;

Taking responsibility of specific activities upon proposal of the Plenary in affairs that may merit priority and require immediate attention of the Forum;

The Chairperson, in particular, will be responsible of the contact with international bodies and initiatives that are relevant for the Forum, thus her/his experience in international central banking issues is an important asset; and,

Providing the greatest dissemination to the work of the Forum in coordination with the Secretariat.

Secretariat

El CEMLA actuará de manera permanente como Secretaría del FIF y su principal responsabilidad será asegurar el funcionamiento adecuado de la agenda y actividades del Foro, apoyando al Plenario y al Comité Ejecutivo. Otras tareas particulares de la Secretaría consisten en:

Mantener registro de cualquier asunto, actividad, comunicación u otro evento relevante del Foro, esto incluye la responsabilidad de divulgar, en canales electrónicos, las publicaciones y comunicados emanados del Foro;

Ser enlace con grupos y organizaciones internacionales, incluyendo al Comité Consultivo, para promover la visibilidad del Foro en la comunidad internacional;

Asumir responsabilidades en asuntos específicos, a propuesta del Comité Ejecutivo o del plenario, como puede ser la organización de las reuniones plenarias anuales, conferencias, capacitaciones y asistencias técnicas, entre otros;

Actuar como ente coordinador temporal del Foro en caso de que el Comité Ejecutivo se disuelva o no esté en condiciones para cumplir con sus responsabilidades.

Advisory Committee

The FIF Secretariat will be permanently hosted by CEMLA and its main responsibility will be to ensure the proper functioning of the Forum's agenda and activities by supporting the Plenary and the Executive Committee. Other particular tasks of the Secretariat entail:

Supporting the Executive Committee and the Secretariat to keep updated the Forum's agenda in line with international statistical developments;

Providing advice or specific support to FIF activities upon request of the Executive Committee or the Secretariat, including technical assistance, direct contribution for groups set by the Plenary, among others; and

Attending the annual plenary meetings and other related remote and in-person meetings carried out as part of the Forum's activities.
Central banks
Advisory Committee members
Steering Committee (2018-2020)
Chair: Fernando Ávila, Banco de México

Co-chair: Gloria Peña, Banco Central de Chile

Co-chair: Teresa Lamas, Banco Central de Reserva del Perú
Secretariat
CEMLA
Raúl Morales
Tel: +52 (55) 5061 66 40
Fax: +52 (55) 5061 66 95
E-mail: mmorales@cemla.org
FIF activities have a diverse scope, and according on their nature, they will seek to: (i) exchange experiences and knowledge among members, (ii) promote analysis and debate of issues and joint projects with a regional perspective; (iii) encourage joint learning with international organizations and CEMLA technical associates; and (iv) strengthen capacity and knowledge of the members through training. Based on these pillars, the FIF work agenda can be divided into three scope areas:
Research and analysis of policy and recommendations;

Training and dissemination;

Technical assistance 

Activities

VI Meeting of the Financial Information Forum
Virtual format May 27–29, 2020. Mexico City, Mexico.

V Meeting of the Financial Information Forum
May 28–29, 2019. Lima, Peru.

IV Meeting of the Financial Information Forum
May 28–30, 2018. Madrid, Spain.

III Meeting of the Financial Information Forum
October 4–5, 2017. Santiago, Chile

Technical cooperation activities between FIF members
July 2016. Mexico City, Mexico.

II Meeting of the Financial Information Forum
May 4–7, 2016. Lisbon, Portugal.

Workshop on Assessing International Capital Flows After the Crisis
July 24, 2015, Rio de Janeiro, Brazil

I Meeting of the Financial Information Forum
June 8–9, 2015. Mexico City, Mexico.

Meeting on Financial Information Needs for Statistics, Macroprudential Regulation and Supervision in Central Banks of Latin America and the Caribbean
May 15–16, 2014. Mexico City, Mexico.
General documents
Other documents of interest