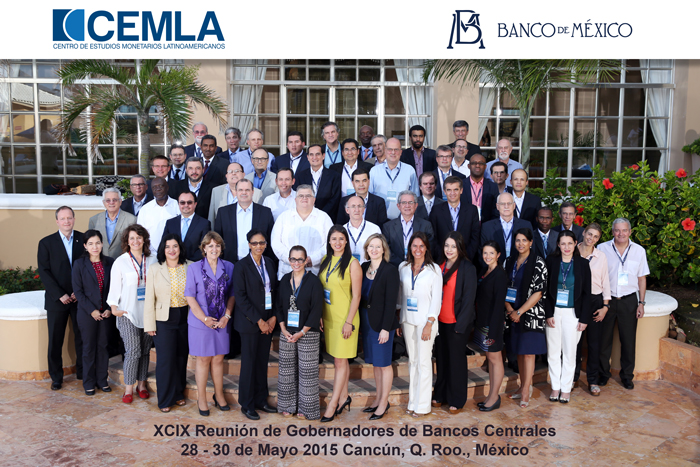 XCIX Meeting of Central Bank Governors  of the CEMLA
On May 29 and 30, 2015, the XCIX Meeting of Central Bank Governors of the Center for Latin American Monetary Studies, was held in Cancún, Quintana Roo, Mexico. Once the opening remarks were given by Agustín Carstens, Governor, Banco de Mexico, host of the event, the sessions addressed the following topics: International economic and financial outlook; Strengths and macroeconomic challenges in Latin America and the Caribbean; Topics under discussion at the G20; Monetary policy challenges related to recent commodity prices trend; Strengthening of financial stability through a macroprudential approach - Implications for monetary policy; and International private banking view on economic and financial situation in Latin America and the Caribbean. 
Governors and delegates had the opportunity to discuss and tackle said topics in a widely manner. In addition to Dr. Carstens, other speakers were: Alexandre Tombini and Tony Volpon, Banco Central do Brasil; Carolyn Wilkins, Bank of Canada; Rodrigo Vergara, Banco Central de Chile; José Darío Uribe, Banco de la República (Colombia); Fernando Restoy, Banco de España; Oscar Monterroso, Banco de Guatemala; Javier Guzmán, Banco de México; Julio Velarde, Banco Central de Reserva del Perú; Thomas A. Connors, Board of Governors of the Federal Reserve System; and Mario Bergara, Banco Central del Uruguay; as well as Jaime Caruana, Bank for International Settlements; Alejandro Werner, International Monetary Fund; and José Manuel González-Páramo, Member of the Board of Directors, Banco Bilbao Vizcaya Argentaria, as special guests.

Within the framework of the XCIX Meeting of Central Bank Governors of CEMLA, CEMLA's Board of Governors and Assembly Meetings were also held. The Report on Activities and Financial Outcome for Year 2014 was presented together with other topics aimed to the Center´s performance. It is worth highlighting that during the Assembly session, the Associate members elected the Board of Governors for the period 2015 – 2017.
XCIX Meeting of Central Bank Governors of CEMLA