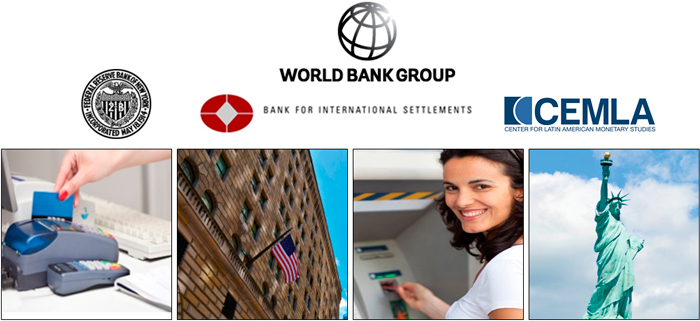 Global Payments Week 2014
The Global Payments Week 2014 took place from September 23th to 26th under the coordination of the Payment Systems Development Group of the World Bank and CEMLA, and with the collaboration of the Bank for International Settlements and the auspices of the Federal Reserve Bank of New York. The Global Payments Week is the most relevant meeting organized annually by the Western Hemisphere Payments and Securities Settlement Forum. 
The 2014 edition had the participation of more than 120 delegates representing authorities and special guests from all around the globe. This was the framework for the presentation and discussion of issues related to the implementation of the Principles for Financial Market Infrastructures, financial inclusion, the recovery and resolution of financial infrastructures, cyber security, and main developments in the retail space. 
This edition of the Global Payments Week concluded with the XVIII Working Group on Payment System Issues of Latin America and the Caribbean (WGPS-LAC) where this central banks' group discussed their work plan and appointed the Chair for the period 2014-2016, led by the Mr. Julio Cesar Pando, Subgerente General de Medios de Pago from Banco Central de la República Argentina as President, and Mr. Livingstone Morrison, Deputy Governor from Bank of Jamaica and Fabiola Herrera, Directora de Sistemas de Pago from Banco Central de la República Dominicana as Vicepresidents.
related information