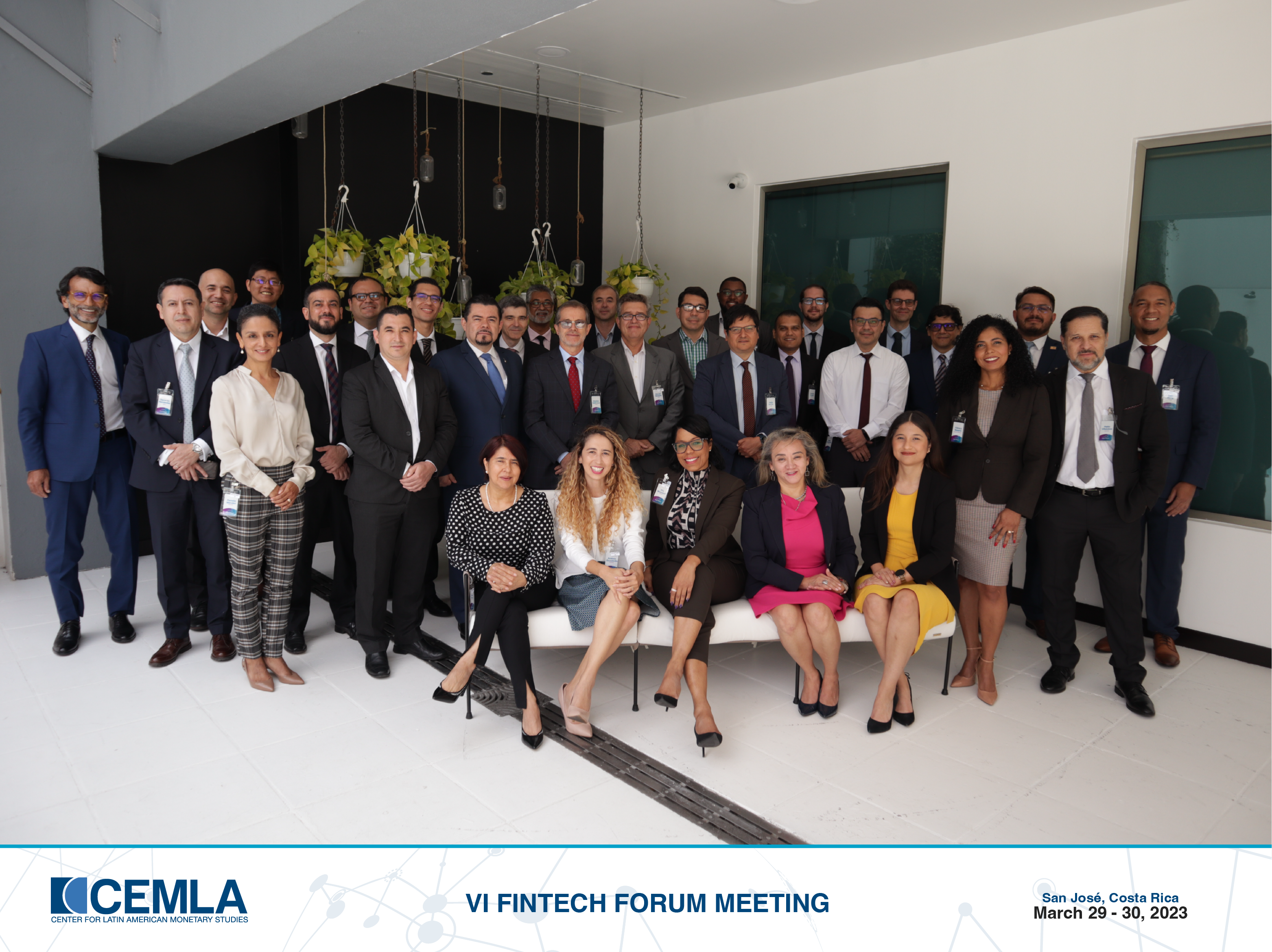 Disponible en Español
VI Fintech Forum Meeting
March 29 - 30
San José, Costa Rica
The Directorate of Financial Market Infrastructures of CEMLA, together with the Central Bank of Costa Rica and the Bank of Spain, organized the VI Meeting of the Fintech Forum. The meeting was held in a hybrid manner from March 29 to 30, 2023 in San José, Costa Rica. It was attended by 111 representatives from 36 CEMLA institutions and partners, representing 29 countries. The objective of the Meeting was to discuss and share experiences on Fintech developments in the region.
The first day began with the keynote speech by David Vidal, entitled "Myths and Realities of the Metaverse". In this talk, Mr. Vidal spoke about the current landscape of various cutting-edge technologies and how they could impact the financial sector if changes to the current regulatory framework are not considered. This was followed by the session "Recent drivers of change in the crypto-asset space", in which topics of DeFi, NFT and other initiatives of the sector were discussed.
After a short break, the session "Relevant developments in standards, policies and norms applicable to crypto-assets" took place, where 9 policy elements for crypto-assets, relevant developments (investigating FSB work) and prudential treatment were discussed. The first day of the meeting concluded with the presentation "How to deal with the BigTech regulation?" in which public policy risks, current regulation and the necessary development of regulatory policies of 3 types were discussed: Restriction, Segregation and Inclusion.
During the second day there were three sessions. Two referring to Stablecoins and one to Fintech Regulation. In the Stablecoins session, its definition as a digital asset based on the value of another asset was mentioned. Its origin as a means of payment within crypto-actives, with a high speculative use, was discussed. Then its uses in cross-border payments and as a bridge between the DeFi world and traditional finance were discussed. Its little influence was observed within financial inclusion because it is a technology mainly used by young groups of upper-middle class. The main risks are based on the fact that, like bridges, they transfer failures from the DeFi world to the traditional financial world. Much of the discussion focused on raising the questions that need to be considered from the point of view of regulators to address the regulation of stablecoins.
In the third session, the survey on Fintech Regulation was addressed. It began by recalling the results obtained in the 2018 survey and presented the results of the new survey carried out in 2023. The session ended with some perspectives and experiences on this topic shared by representatives of the Central Bank of Costa Rica and the Bank of Spain.