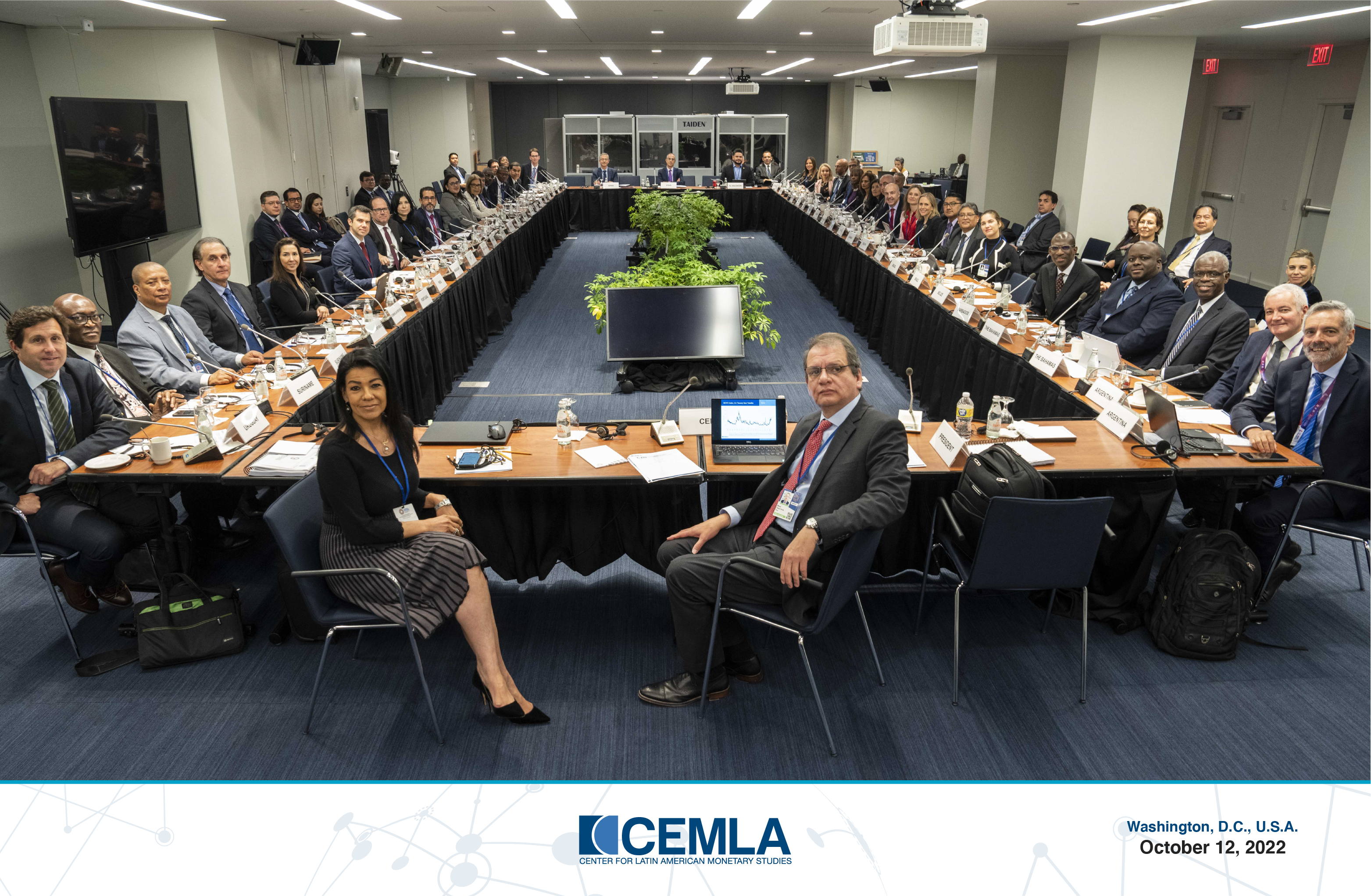 Disponible en Español
CXIII Meeting of Governors of Central Banks Members of CEMLA
Washington, D.C., U.S.A.
October 12, 2022
On October 12, in Washington, D.C., the CXIII Meeting of Governors of Central Banks Members of CEMLA took place. Meetings of CEMLA's Assembly and of the Board of Governors also took place.
As is customary, during the Governors' Meeting, information was exchanged on the main aspects of the current economic situation and international financial markets.
The meeting was attended by representatives from 31 institutions, who were welcomed to the Meeting by Dr. Manuel Ramos Francia, CEMLA's Director General. The session began with a presentation by Dr. Ilan Goldfajn, Director of the IMF's Western Hemisphere Department, who addressed the tightening of current global financial conditions. This was followed by a presentation by Dr. Manuel Ramos Francia on monetary policy in a global environment of high inflation.
The second session of the Meeting, dedicated to the analysis of the economic and financial outlook, began with presentations by Dr. Lisa Cook, Governor of the Federal Reserve Board; Dr. Leonardo Villar Gómez, General Manager of Banco de la República (Colombia); M.Sc. Victoria Rodríguez Ceja, Governor of Banco de México; and Dr. Pablo Hernández de Cos, Governor of Banco de España.
Later, took the floor M.Sc. Roberto Campos Neto, Governor of the Banco Central do Brasil; Dr. Julio Velarde, President of the Banco Central de Reserva del Perú; Eng. Beltrán de Ramón, General Manager of the Banco Central de Chile; and Dr. Jorge Carrera, Director at the Banco Central de la República Argentina.
On the other hand, during the Assembly meeting, the amendment of Article 8 of the Center's Statutes was approved, which provides that when the Associate, for two consecutive years, does not comply with the obligation to pay its quotas, its membership will be cancelled, which may be recovered by paying a reinstatement fee to CEMLA equivalent to two years of its last quotas as an Associate Member.
Finally, at the meeting of the Board of Governors, the winners of the "Rodrigo Gómez" 2022 Central Banking Award were named: first place, second place and two honorable mentions