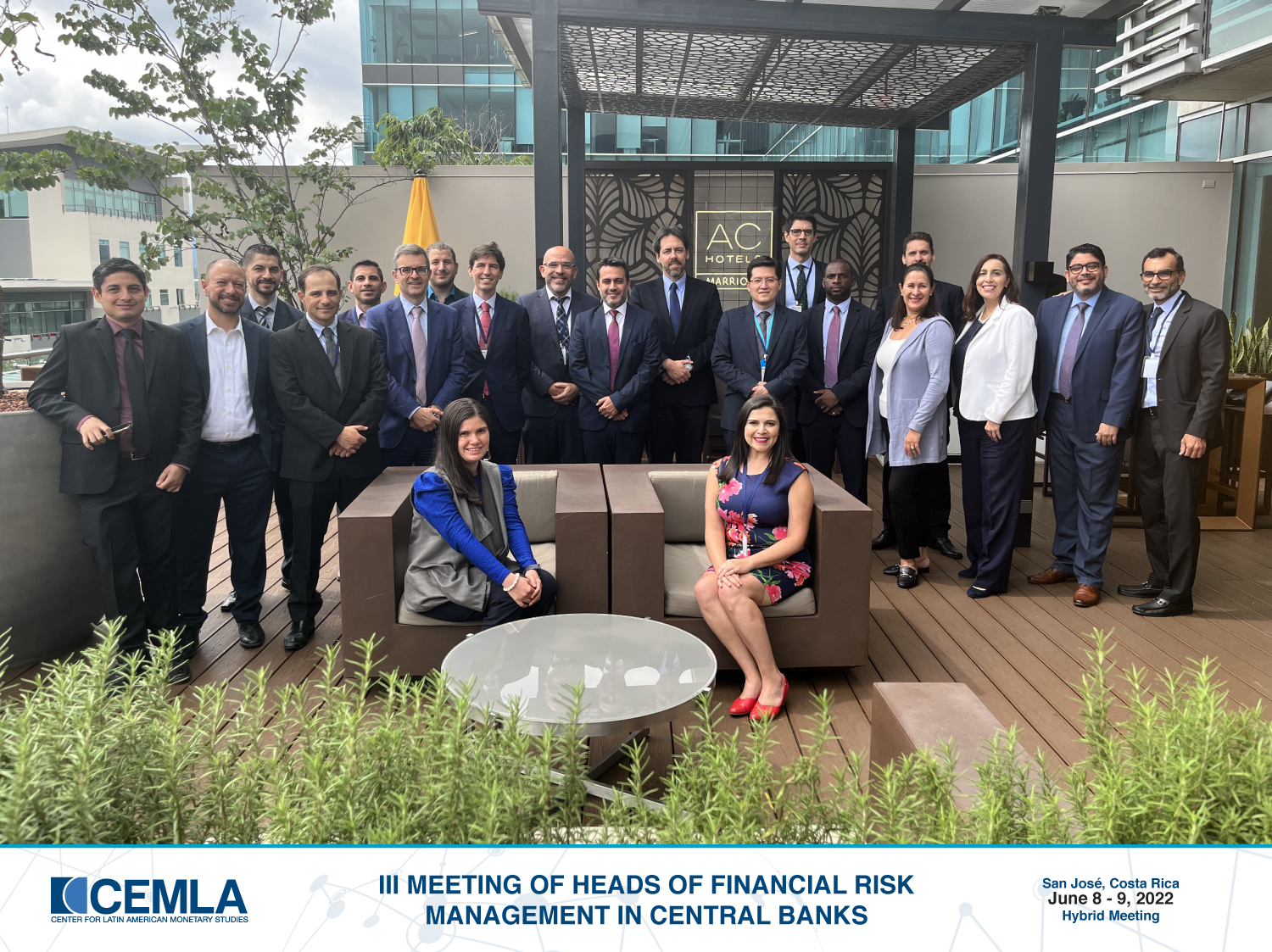 Disponible en Español
III Meeting of Heads of Financial Risk Management in Central Banks
San José, Costa Rica
June 8 - 9, 2022
Hybrid Event
The Meeting was held in San José (Costa Rica) on June 8-9, 2022, in hybrid format, and was attended by 122 representatives from 33 institutions and associates of CEMLA, representing 20 countries from the Americas, 8 European countries, and 1 Asian country.
The event focused on the following topics: emerging financial risk challenges, the implications of collateral and guarantees for financial risk management, risk committees, FX exposures and reserve management during the Covid pandemic, the evaluation of exposure to environmental risks, and financial risk governance. The agenda included two keynote sessions by Timothy Lane, Deputy Governor of the Bank of Canada, and Professor Ricardo Reis, from the London School of Economics.
Participants discussed the role of collateral as a tool for risk management, and how changes in eligibility of collateral conditions facilitated the provision of liquidity during the COVID-19 crisis. Also, they shared their experiences regarding organizational aspects of financial risk management. Finally, the participants talked about different experiences in incorporating the effects of environmental risks in their decision processes.
Some additional takeaways from the meeting were the following:
Central banks put in place special measures to provide liquidity during the COVID-19 crisis, such as easing of collateral requirements. Additionally, it was discussed how and when such special measures should be phased out, as well as the methodological and operational changes that they implied.
The COVID-19 crisis led to changes in portfolio compositions, larger balance sheets, and challenges due to high volatility in interest rates and FX, for which investment guidelines and diversification played an important role for risk management.
Environmental risk management frameworks tend to rely on data-intensive methodologies and metrics, that require an interdisciplinary approach with the coordination among different entities.
Timothy Lane
Deputy Governor
Bank of Canada
Timothy Lane became Deputy Governor of the Bank of Canada in 2009. In this capacity, he shares responsibility for decisions with respect to monetary policy and financial stability. He also oversees the Bank's funds management and currency functions—including the Bank's ongoing research and analysis of developments in financial technology, crypto-assets and digital currencies.
Mr. Lane served for 20 years on the staff of the International Monetary Fund. During that period, he contributed to the IMF's analysis of numerous countries and conducted research on a wide range of topics, including monetary policy, financial crises, IMF reform and economic transition. In 2008, he joined the Bank of Canada as an Advisor to the Governor, a position he held until his current appointment.
Born in Ottawa, Mr. Lane holds an honours BA from Carleton University and a PhD in economics from Western University.
Ricardo Reis
A.W. Phillips Professor of Economics
London School of Economics
Ricardo Reis is the A.W. Phillips Professor of Economics at the London School of Economics. Recent honors include the 2021 Yrjo Jahnsson medal, the 2017 BdF/TSE junior prize, and the 2016 Bernacer prize. Professor Reis is an academic consultant at the Bank of England, the Riksbank, and the Federal Reserve system, he directs the Centre for Macroeconomics in the UK, and serves on the council or as an advisor of multiple organizations. He has published widely on macroeconomics. His main areas of research are inflation, inflation expectations, unconventional monetary policies and the central bank's balance sheet, disagreement and inattention, business cycle models with inequality, automatic stabilizers, public debt sustainability, monetary-fiscal interactions, sovereign-bond backed securities, and the role of capital misallocation in the European slump and crisis. His public service includes writing a weekly column for the Portuguese press and developing European Safe Bonds (ESBies). Professor Reis received his PhD from Harvard University, and was previously on the faculty at Columbia University and Princeton University.