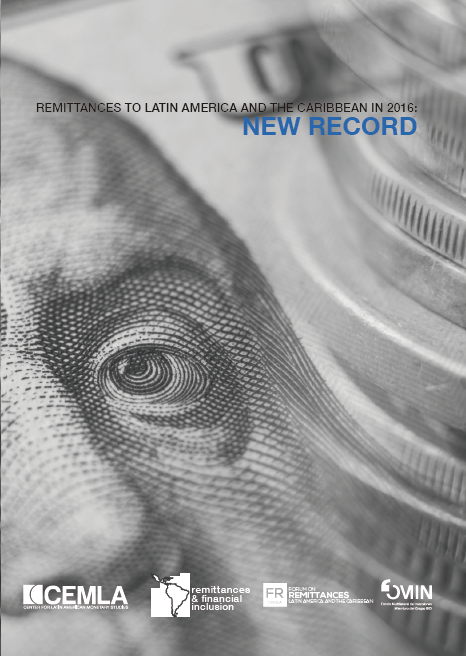 Remittances to Latin America and the Caribbean
in 2016: A New Record

Program of Remittances and Financial Inclusion
In 2016, remittance flows to Latin America and Caribbean reached new record levels that had a very positive impact on millions of recipient households. The most important aspects characterizing the behavior of such inflows were: i) remittances amounted to usd 70,369 million, after having accumulated increases for 7 consecutive years; ii) the annual growth of these inflows was 7.2%, which represents the highest growth rate recorded in the past 10 years, iii) the increase in remittances was generalized throughout all the different subregions; and iv) stemmed from, among other factors, higher employment, average wages and, consequently, the total wage bill for migrant workers from the region in the main destination countries.
After the fall remittances experienced in 2009, these flows recovered their growth, albeit at a much slower rate than had been observed prior to the financial crisis. This recovery accelerated significantly during 2015, reaching an annual growth rate of 5.9%, which, however, was far exceeded in 2016 when levels similar to those seen in years before the international financial crisis were achieved.
Thus, as can be seen in Figure 2, for almost all of 2016 the growth rates of remittances received by Latin America and the Caribbean were 8% higher than those observed in the same periods of the previous year. The third quarter of the year displayed an annual growth rate of 3.6% due to the substantial expansion (10.2%) recorded during the same period one year ago.
On average, a total of usd 17,592 million was received in lac each quarter during 2016. The fourth quarter saw the largest inflow amounting to usd 18,385 million and the smallest inflow was received in the first quarter (usd 17,737 million).

- Remittances to Latin America and the Caribbean in 2016: A New Record
format PDF | size 5.12 MB