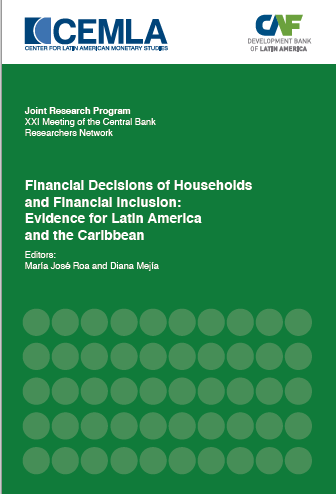 Joint Research Program
XXI Meeting of the Central Bank Researchers Network
Financial Decisions of Households and Financial Inclusion: Evidence for Latin America and the Caribbean
Editors
María José Roa and Diana Mejía
Preface
Over the last few decades the interest in understanding household financial decision making has been growing. This interest has partly been due to its close relation with two phenomena of particular importance to developing economies: financial inclusion and financial literacy. A set of recent macroeconomic studies have shown how financial inclusion is positively related to financial stability, economic growth, equality and poverty reduction. As a consequence, many emerging countries, including those of Latin America, has created national financial inclusion strategies. 
As a first step towards designing such strategies, different surveys have been conducted that attempt to collect information on the access and usage of formal and informal financial products and services. The evidence demonstrates how people use informal saving, credit and payment instruments and that levels of financial inclusion among the population are very low. Moreover, the data shows that even people who participate in the formal financial sector use informal financial instruments. CAF-Development Bank of Latin America and several central banks of the region have actively participated in elaborating and compiling financial inclusion databases. 
In Latin America and the Caribbean, recurrent financial and economic crises have undermined people's confidence in the formal financial sector, and have led to the coexistence of formal and informal financial products and services in the market. Although lack of trust is a significant barrier to financial inclusion in the region, it is not the only one. Peer or social pressure, certain biases identified by behavioral economics, and a lack of financial literacy have also proved to be equally important barriers. On the supply side, high transaction costs and physical barriers also restrict the participation of a large proportion of the population living in rural areas. Thus, different interventions have been made during recent years in an attempt to offset or reduce some of these barriers, such as the introduction of mobile banking, correspondent agents, basic low-cost products, products with liquidity restrictions and saving plans, and financial education programs, among others.  Central banks have actively participated in formulating many of the regulations for these new financial channels and products, working as key players in the national strategies.
One of the main lessons learnt from the 2007 financial crisis is the relevance of clearly and fully understanding how the financial system works, on the supply as well as the demand side. On the demand side, this evidence was used in planning and creating national financial literacy strategies; promoting international surveys on financial skills; and even assessing the effect of a lack of financial skills among citizens on a nation's economy. In the last decade, financial literacy has been considered as a key determinant of people's financial decisions and, ultimately, of their wellbeing. Financial literacy emerges as a critical factor, given that it not only facilitates the effective use of financial products, but also helps people to acquire the skills necessary for comparing and choosing those that are best adapted to their needs and possibilities, empowering them to exercise their rights and responsibilities, and encouraging their participation in formal financial markets. Different surveys around the world demonstrate that financial literacy are low, especially among individuals with less education and lower incomes, women, the young, the old and inhabitants of rural areas, among others. For the case of Latin America and the Caribbean these surveys have been done thanks to the leadership of CAF, which in some countries has received support from central banks and superintendencies.
Under this context, in 2015 CEMLA and CAF invited central bank researchers to take part in joint research that would be based on data from the financial capabilities surveys of CAF and other national financial education and inclusion surveys. The proposal was presented at the 2015 Meeting of the Central Bank Researchers Network in the Dominican Republic. At the end of December 2015, the central banks of Bolivia, Brazil, Colombia, Dominican Republic, Ecuador, Mexico, Peru, and Uruguay, along with CEMLA, confirmed their participation in said research, resulting in the 13 research papers contained in this book. The papers included here take different approaches to analyze household financial decision making, participation in the formal and informal sector, and the role of education in financial decisions. We hope this body of work enriches discussion and leads to a better understanding of these topics, which are key to promoting sustainable development in Latin America and the Caribbean.
Luis Carranza Ugarte

Executive President
CAF -Development Bank of Latin America-

 

Fernando Tenjo Galarza

General Director
Center for Latin American Monetary Studies

 
About the editors
María José Roa
Holds a PhD in Economics from the Universidad Autónoma de Madrid, Spain. She has over 20 years experience in research and teaching. Her research topics are the economics of personality traits, financial inclusion, financial education, behavioral finance, economic growth and financial development. She has given classes at different universities and research centers in Spain, Mexico and the USA.  She has also published articles in international indexed journals. She is currently working as Senior Researcher in the Economic Research Division of CEMLA. She is coordinating several research papers and education and financial inclusion projects with Latin American and Caribbean central banks and is a member of the Research Committee of the International Network on Financial Education of the OECD.
Diana Mejía
Senior Specialist in Productive and Financial Development at CAF-Development Bank of Latin America. Prior to that position, she worked in the Banco de la República (Colombia) as Director of Economic and Financial Education, and Director of Institutional Communication, among other posts. She holds a Master's degree in Economics from the Universidad de los Andes in Bogotá, Colombia, as well as a Master's degree in Public Administration from the University of Harvard's Kennedy School of Government. During her career path of over 15 years she has worked on different financial inclusion and education programs in Latin America, specifically on measuring the financial skills among people in different countries of the region and as an advisor to governments with respect to the design and implementation of national financial inclusion and education programs. She is a member of the International Network on Financial Education of the OECD (INFE) and the Advisory Council of the BBVA Center for Financial Education and Capability. She is the author of several publications on the matter.
Financial Decisions of Households and Financial Inclusion:
Evidence for Latin America and the Caribbean
publicaTion | PDF format | Size 5.75 MB
First part
Determinants of Households Financial Decision-Making in the Region 
Second part
Effects of Different Financial Inclusion Interventions (No lleva vínculo)
Keywords: bankarization, cognitive characteristics, credit, cultural dollarization, financial dollarization, financial education, financial inclusion, financial knowledge, financial literacy, financial stability, formal economy, informal economy, microentrepreneurs, personal finance, personality traits, saving, Bolivia, Brazil, Colombia, Dominican Republic, Ecuador, Mexico, Peru, Uruguay, Latin America.

 

JEL classification: A20, C21, C25, C81, D1, D4, D10, D12, D14, D83, E26, G1, G11, G19, G20, G21, G29, I20, I22, I28, J26, K34, L26, O10, R20, R22.