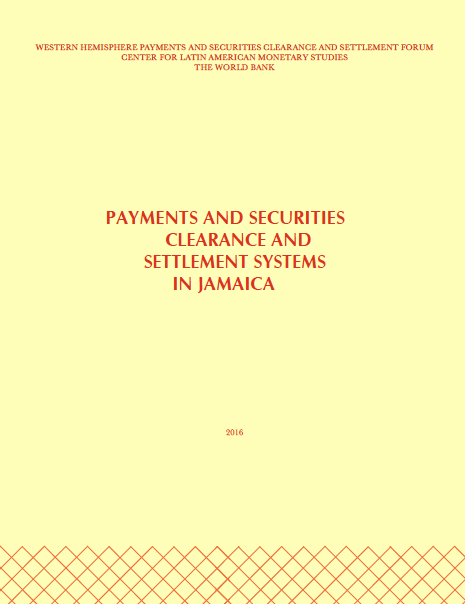 Payments and Securities Clearance
and Settlement Systems in Jamaica
Abstract: 
Jamaica has a well-developed payment and settlement system that was enhanced by major Payment System reform initiated by the Bank of Jamaica in 2005. The enhanced environment is supported by an enabling legal framework that includes the enactment of the Payments Clearing and Settlement Act, 2010 (PCSA) and the Government Securities Dematerialization Act (GSDA), which was repealed in 2012 and replaced by the Public Debt Management Act (PDMA), and the implementation in 2013 of the Guidelines for Electronic Retail Payment Services (Guidelines). Other significant efforts occur on a continuous basis thanks to the collaborative framework that the Bank of Jamaica has established with the payments industry in the National Payments Council.
This Report begins with an overview of the recent macroeconomic-financial situation and a brief description of the Jamaican financial sector. It goes on to describe the institutional aspects underpinning the National Payments System (NPS) that embraces all systemically important and prominently important payments and securities clearing settlement systems and arrangements. This is followed by a description of the recent trends in the way that end-users, individuals, businesses and the Government, have access and use of payment instruments, including cash, cheques, electronic transfers, cards and other payment instruments. In addition, a detailed description of the main feature for each existing payment and settlement system, large and retail value, is also reported. 
Key words: Payment systems, payment instruments, payments regulation, securities and derivatives, interbank systems, high-value payments, retail systems, securities settlement systems, Bank of Jamaica.
Subject: Payments and Financial Market Infrastructures.
Publication: Yellow Book.
Date: April 2017.
Authors: Bank of Jamaica, CEMLA, The World Bank Group
Payments and Securities Clearance and Settlement Systems in Jamaica
full Publication | PDF format | Size 1.17 MB