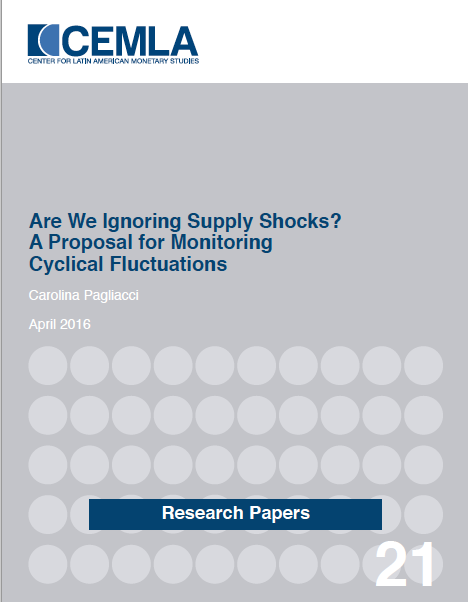 Are We Ignoring Supply Shocks? A Proposal for Monitoring Cyclical Fluctuations
Research Papers 21
Carolina Pagliacci
Although there are several mechanisms within modern theoretical models acknowledging that supply shocks can account for an important part of output fluctuations, even in the short-run, policy practitioners continue endorsing the idea that only demand shocks explain them. This article provides firstly, empirical evidence showing that supply shocks are much more important for explaining output (and price) fluctuations than what the common wisdom indicates; secondly, a more agnostic implementation of the Blanchard-Quah type of structural analysis that focuses on policy evaluation.
Empirical evidence on several Latin American countries and the United States shows that the share of output variance explained by supply shocks in the short-run is substantial. Results are based on the identification of supply and demand shocks in the context of a bi-variate structural VAR (SVAR) that uses inflation information and sign restrictions for short-run identification.
The identification strategy uses the notion that supply and demand disturbances can be distinguished by the direction of their effects on output and prices. For policy analysis purposes, we suggest computing the historical decomposition of output growth for each type of shock and propose two-related new indicators that should guide monetary policy interventions more adequately than traditional output gaps.
Keywords: Cyclical fluctuation, structural demand and supply identification, sign restriction identification.

JEL codes: E32, E31, C32.

Are We Ignoring Supply Shocks? A Proposal for Monitoring Cyclical Fluctuations
publicacion | formato PDF | tamaño 3.11 MB